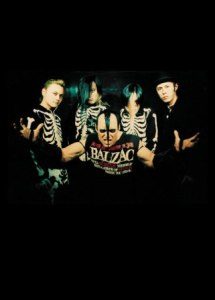 Группа BALZAC была создана в 1992 году в городе Осака, Япония бессменным лидером и участником Хиросуке Нисиямой. Благодаря их схожести с легендарной американской панк-рок группой The MISFITS , с их уникальным саундомом и концептуальным имиджем героев фильмов ужасов, банда привлекла внимание не только у себя дома, в Японии, но и зарубежом. Группа The Misfits поддержали творчество BALZAC, а в 2002 году перепели и записав классную песню «Day The Earth Caught Fire», которую можно услышать на одноименном сплит-альбоме MISFITS/BALZAC. Более подробную историю группы , я скопировал с их оф. сайта:
BALZAC BIOGRAPHY
HirosukeBalzac was formed in Osaka, Japan in 1992 by Hirosuke Nishiyama. He is the only remaining original member of the band. The current line-up consists of Hirosuke Nishiyama (Vocals), Atushi Nakagawa (Guitar/Chorus), Akio Imai (Bass/Chorus), and Takayuki Manabe (Drums/Digital Effects/Chorus).
Before creating Balzac, Hirosuke fronted another band, Astrozombies, which was very heavily influenced by legendary Japanese rockers, Gastunk. Astrozombies released only one demo cassette, entitled «The Texas Chainsaw Massacre», before Hirosuke disbanded it and started on his new project, Balzac. In 1992 their first demo cassette was released, in a limited 13-copy release, entitled «Scapegoat 666».
Almost immediately after putting the group together Balzac began playing shows in and around Osaka, even playing Tokyo in the early months. Within a year had released their first single, «The Lord of the Light and of the Darkness» on their own record label, Evilegend13 Records. Over the next few years they managed to release 4 more singles, «Atom Age Vampire in 308» (on MCR), «Isolation From No.13» (on HG Fact), «When the Fiendish Ghouls Night» (on Evilegend13 Records), and were a part of a few various artists compilations.
After being signed to Alchemy Records, they released their first full-length album, «The Last Men on Earth». This would be their only release on Alchemy. It was 1995, and the band was gaining popularity throughout Japan, but also catching a little attention overseas as well. However, it wouldn't be until much later that they would really be welcomed outside of Japan. «The Last Men on Earth» was heavily influenced by the legendary horror punk outfit, the Misfits. Balzac is often compared to the Misfits, even to this day. Another influence on Balzac, mainly in the very early years, was Samhain, a band started by ex-Misfits lead vocalist, Glenn Danzig. Anyone who is familiar Samhain will easily see the connection between Balzac's first album and the works of Samhain. Balzac tends to stay away from the «campy» side of horror that the Misfits were known for, but Hirosuke's lyrics tend to be more like dark poetry, and though not always serious, deal with themes of darkness, isolation, loneliness, terror and fear. It is obvious that the Misfits influence continues even to this day. Without them Balzac would not exist and Hirosuke never denies this.
AkioJust before releasing their 3rd single, «Isolation From No.13» the band lost it's long-time bassist (and Jerry Only look-a-like), Anti, as well as their drummer, H. Nishio. But, there was no stopping this tour de force. A long-time friend of Hirosuke's, Akio Imai, joined the band. He was playing for his own band at the time, The Clash Dogs, but it had been a dream of his to play in Balzac for quite some time. Masami sat behind the drums for the next few releases. But, by 1997, when when they were about to record their second full-length album, «DEEP - Teenagers From Outer Space» the band once again found themselves without a drummer. They recruited another long-time friend and very experienced drummer, Futoshi Okano to fill the spot. They would call upon him a few times over the years to help out with recording when they found themselves without a drummer. Okano is a very technical drummer and was able to include his signature sound into the new recordings. It is some of the best drum work on any Balzac album. Member swaps were not the only changes for the band in 1997, they also became a part of Phalanx Records on Halloween of that year. Though not a major label, Phalanx Records is very well known in the indie scene throughout Japan. All subsequent major releases by the band would be on Phalanx Records, or on the band's own Evilegend13 Records label.
In 1998 Kill joined the band as dummer, and they were really becoming much more well known in the scene. They had even cought the attention of the recently re-incarnated Misfits. Now being headed by Jerry Only, Balzac was asked to open for the Misfits when they came for their first Japanese tour. This would be the humble beginnings of a very close relationship which would lead to much success for Balzac outside of Japan in the coming years. 1998 was like an explosion, as the band was now playing much larger venues, with bands like Sobut and The Mad Capsule Markets. They released a a split CD with The Hate Honey, were featured on the Devilock Night video, released their own VHS, entitled «Video DEEP II», and their third album, «13 Stairway ~ The Children of the Night» all in the same year. Their album sold very well and their shows were growing as a lot more people were now showing up to see what the band was all about. They launched a full-scale all-Japan tour to promote their album and played to sold-out crowds. The following year would also prove to be extremely successful for the band.
BalzacIn 1999 Balzac released a split single, «Oldevils Legend of Blood», with friends Sobut. This split contained the songs «The End of Century» and «No Resistance 1968», both of which have become huge fan favorites. They released a special 12-inch version of «Isolation From No.13», a remixed tape as a special box set with toy industry friends, T.W.I.M (The World Is Mine) whose headquarters is in Nagoya, as well as playing on a Gastunk tribute album. On Halloween they released one of their most popular singles. «Into the Light From the 13 Dark Night» was released on vinyl, CD, and cassette and is one of Balzac's most popular songs. It would be re-recorded in many different versions over the next few years, as many of thier songs would eventually be. After the release of this single, the band was once again back on tour. They also released the flexi 7-inch including «Neat Neat Neat» a Damned cover. Little did they know that a few years later they would share the same stage with these punk legends in the USA while on tour.
1999 also marked the beginnings of the bands own fan club, the Fiendish Club. Obviously modelled after The Misfits' Fiend Club, it offered fans a great way to stay in touch with the band and to recieve some very rare items at the same time. The fan club charges an admission fee and currently has nearly a thousand paying members.
In 2000 The Misfits were back touring Japan and Balzac was there opening for them once again. Directly after, they played a string of shows with The Mad Capsule Markets. 2000 included a lot of heavy touring for the band, but they managed to release another video and the highly sought-after Kubrick sets. These sets included cute Medicom Toy Co. versions of the band members and their «Hands of 9 Evils» 7-inch was included in the package. This amazing set was released to an unknown public. People quickly snatched them up and this set is still one of the higher priced items in most collections. Soon after, they released another highly collectible figure, this time a 12-inch RAH version of the band's mascot, the Paperbag Man. There were three limited colors and are still very sought-after for collectors. In December of 2000 Balzac released their next full-length album, «Zennou Naru Musuu no Me ha Shi wo Yubi Sasu». It was a concept album and sold extremely well. Many of Balzac's well known earlier songs got the renewal treatment on this release. The album is very dark and has very strong industiral influences.
AtsushiBalzac opened their first retail store in Osaka, Japan in 2000. Shocker!!! was something they had wanted to open for a long time. It is a small store where they sell their own original brand, Shocker!!!! merchandise, as well as Band merchandise. Hirosuke also has his own lothing brand called Dementia Thirteen which is also available through the store. Most recently, they have also launched yet another clothing brand, Culture.
In early 2001 the band released numerous very popular singles, as well as a boxset featuring the amazing artwork of Japanese manga artist, Suehiro Maruo, which had been used on the album «Zennou Naru Musuu no Me ha Shi wo Yubi Sasu». They also contributed a noise rock version of «Day the Earth Caught Fire» and another very catchy pop-influenced number, «The Silence of the Crows» on the «Abstruct Madness» split with Rocky and the Sweden and Delta. Though Balzac's sound is very different from the other two bands, this was a very successful release for them. «The Silence of the Crows» would prove to be an instant hit with many fans. Near the end of the year the band found themselves once again drummer-less. Kill had quit the band for personal reasons and was replaced by Takayuki. He had been a friend of the band's for many years and had just quit playing for the band The Batties Boys. They also opened their second retail store, Coffin, in Kyoto in 2001.
Balzac with Jerry Only of the MisfitsIn 2002 Balzac released a split single with The Misfits. Balzac covered the songs «The Haunting» and «Don't Open 'Til Doomsday» as a medly while The Misfits covered the Balzac song, «Day the Earth Caught Fire». Much more would come of the relationship between the two bands in the coming years. In April of 2002 Balzac released their fifth full-length studio album. The album was a double disc set called «Terrifying! The Art of Dying ~ The Last Men on Earth II». Disc one was mostly new material while disc two was a complete re-recording of the bands first full-length CD. On Halloween the band was invited to play in New York City with The Misfits. This was the band's first time playing live outside of Japan. They were recieved very well and would be asked back to tour the following summer.
2003 would be a huge year for the band internationally. But before touring with The Misfits, The Damned, The Dickies, and Agnostic Front, they released a maxi-single entitled «Beware of Darkness». It was included as a part of a special 4 figure toy set from Medicom Toys Co. and was a big hit. The video for the song was recorded in the USA and was released in May of 2003. There was a censored, as well as uncensored version, due to the graphic nature of the video. They also released their first USA CD, «Beyond the Darkness», on the newly founded Misfits Records. Some call it a «best of» album, but it was more of just a sample of recent songs and a handful of re-recorded favorites. In September they released «Out of the Light of the 13 Dark Night» on the German label, G-Force Records.
In 2004 they released their sixth full-length album, «Came Out of the Grave». It was released in a special edition long-box with a Be@rbrick figure inside. During that summer they plaeyd a large festival with USA punkers Rancid. They also released a tour documentary about their first USA tour, the Fiend Fest. It featured artwork by an American fan, Tony O'Farrel. They also played their first tour in Europe during the summer. They had truly become an international sucess. The band also released a special limited single entitled «Zodiac Killer» under the name «Zodiac» and even played a special live show as the «secret» side project band. More Zodaic releases are in the works, as they proved to be very popular with fans. They also played a special live show playing only Misfits covers as a part of a very special live event during the xmas holiday season.
TakayukiIn 2005 they released the single «D.a.r.K». Soon after they released a mini album entitled «Dark-ism». This mini album included a song entitled «Yami no Hikari e» which had a much different sound than previous Balzac fare. They shot a promotional video clip for the song too (released with a full-color hardcover photo history book), which was also very different from their other videos. It showed the world another side of the band that had not been explored much. This song was originally performed on stage with Hirosuke playing rhythm guitar. Very unique, indeed. 2005 also saw the band touring Japan again for the Darkism Tour. The highly anticipated release of their photobook and DVD set, «Live at The Liquid Room 20050403» came in 2005. The book featured tons of full color photos of the band while the DVD showcased their professionally shot, high-intensity live performance. Late in the year they played the track «Moonlight», a Buck Tick cover for the tribute album «Parade ~ Respective Tracks of Buck Tick», as well as a great version of The Damned's «Smash It Up» for a tribute to The Damned. They also released a special picture disc 7-inch with T.W.I.M where they included the new song «(I Touched the Silence of the) Rain». This was a earlier, rough version of the song that would later be included on the «Horrorock» single, which was included with a new 12-Inch Paperbag Man figure from Medicom Toys Co. which came in 2 limited colors.
Balzac started out 2006 with a bang. They released their seventh full-length album, «Deep Blue: Chaos From Darkism II» in March. It was coupled with a special SkullBat figure, also in 2 limited colors. The all-Japan tour began soon after. During the tour they released their first «real» best-of CD, «13 Hits From Darkism». It includes many of the band's classic songs re-recorded with all the energy of the past combined with the technical talent of the present. A huge 66-song, 2-disc, DVD set was released during the tour as well. A second, smaller-scale DVD-r of the now infamous «Yami Live» from back in 2004 was released during the tour too. There are currently plans to tour the USA this fall, after the release of the new album overseas. A Europen release is also being put together for a near-future release and a tour is in the works as well. Balzac also played two extra special shows. The first show was in Tokyo's Shimokitazawa Yaneura at the end of June to a small crowd of 138 fans. Then, on July 1st in Osaka at Osaka's Namba Bears, the small club where the band's career began.
ZodiacOn November 11th, Balzac released a full-length Zodiac album to end the year. They also played a few huge shows with the Visual Kei band, Mucc and put on a special year-end live event where they took the stage as both Balzac and Zodiac. In 2007 Balzac released a 6-CD set of totally re-mastered previous releases. Balzac once again toured Europe and the USA, just after putting on a special memorial tour in Japan commemorating the release of their re-masters set. Near the end of year the released a new single, «Swallow the Dark».
In April of 2008, Balzac releasd their 8th full-length album entitled «HATRED: Destruction = Construction». It marked a return to the heavier and darker side for the band - reminiscent of some of their earlier work which was more brooding and dark. It was released in a regular edition, as well as a 666mm special edition featuring amazing artwork by comic book artist Liam Sharp. The EU version of the album was released on July 4th by Gan-Shin Records in Germany.
August of 2008 saw Balzac once again touring in Germany. The tour consisted of 7 performances including a special Shocker Europe Event in Hamburg at Club Logo. The tour was documented and included on a DVD entitled «Hatred Lies Deep Inside». The DVD itself featured special music video clips for every song included on the «HATRED: Destruction=Construction» album and the German Tour Documentary was included as bonus footage. A special 666mm version of the DVD was also released in great limitation. It included an iconic silkscreen print of the Balzac Paperbag Man.
2008 marked the 10th year anniversary of one of Balzac's most highly regarded releases, «13 Stairway - The Children of the Night». To mark the occasion a special CD of the making of the original album was released. Alongside the CD, a special DVD was also made available which contained two live performances from 1998. On December 29th Balzac played a live performance at the Shinjuku Loft. A second performance that night saw the band play the entire «13 Stairway - The Children of the Night» album through in front of a packed crowd. Earlier in the month Balzac released the compilation album «The Birth of Evil», which included re-recordings of early Balzac songs from 1992-1994. It featured a few never-before studio recorded tracks - some being pre-Balzac tunes.
Balzac MembersOn August 21st, 2009 Balzac released a mini-album entitled «Paradox». The mini-album was total-produced by Takeshi Ueda (The Mad Capsule Markets, AA=) and features album artwork by Liam Sharp, who also did the «Hatred» cover art. A European version has since been released and a North American multi-disc set should be out by April of 2010. Along with the CD, a vinyl 7-inch single with different arrangements went on sale soon after the initial disc release. Then, on December 11th, 2009 the band released a 44-track, double disc CD ´Best-of´ album entitled ´Complete Legacy of Evilegend: The Best of Balzac´. Many of the tracks have been re-recorded or re-worked.
2010 also proved to be a busy year for Balzac. In March Balzac played two shows, for the first time ever, in Taiwan. A nation-wide tour of Japan with GNz-WORD was also completed. A split single with RADIOTS which included cover versions of the MISFITS' classics, «Astrozombies» and «I Turned Into a Martian» was released in September. As well, a new full-length album entitled «JUDGEMENT DAY» released on October 6th. BAKI, from the legendary Japanese rock band, GASTUNK does guest vocals on Balzac's cover of the GASTUNK song «Red Indians Rock». A Tour supporting the album is planned.
Дискография / Discography Balzac
How to download album / Как скачать альбом -

Click/ЖМИ!
ВНИМАНИЕ! Отключите блокировщик рекламы!!!
ATTENTION! Disable Ad blocker!!!
Если баннер отсутствует, нажмите на "F5" или обновите страницу.
If no banner or it not work, click "F5" or restart page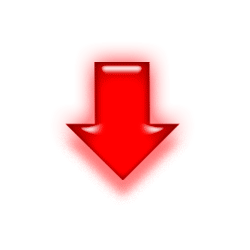 Date of public:
17 февраля 2020
Category of Music: About Group
[ Напишите комментарий, если ссылка не работает/Write a comment if the link doesn't work ]